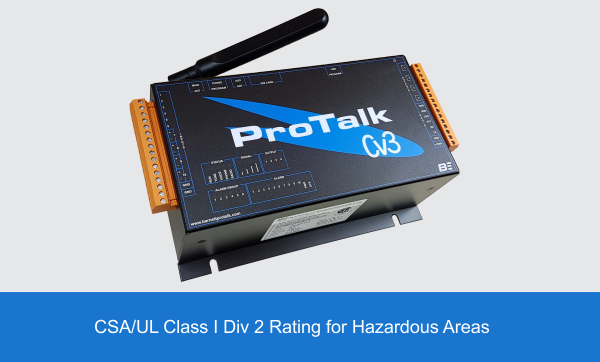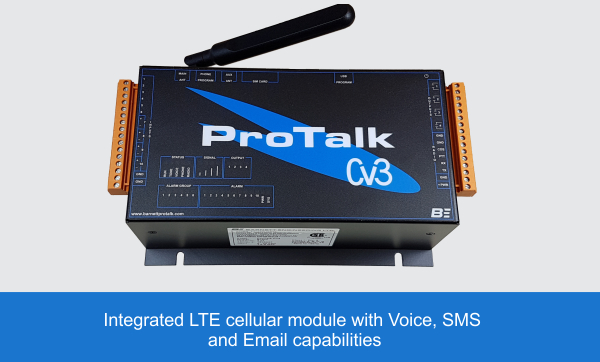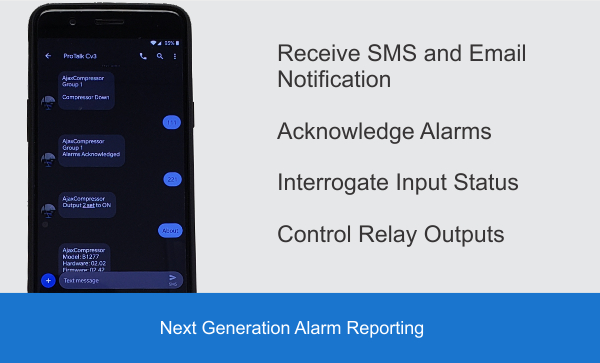 B1277 ProTalk Cv3
The ProTalk Cv3 provides advanced notification of potentially problematic situations with your site and/or equipment. Capable of monitoring both digital and analog inputs, the ProTalk Cv3 provides versatility and flexibility. The unit is integrated with an LTE cellular module allowing for installation in remote sites. Alarm notifications can be sent via phone, text, email, radio or PA System. Remote alarm acknowledgment, system interrogation and relay control is possible via phone and text.
Highlights
Class 1 Div 2 Rating for hazardous areas
Flexible inputs can accept discrete contacts, analog voltage and analog current (4-20 mA)
Extreme temperature rating of -40°C to +60°C
Receive Alarm Summary and Health Status Reports via Email or SMS text
Low power mode for solar panel applications
General Features
Supported Cellular Networks:
Canada (Telus, Bell, Rogers, SaskTel)
USA (Verizon)
Display
Indicator LED's and connector markings
Alarm Inputs
10 inputs; configured as Digital or Analog (0-5 VDC, 0-30 VDC and 4 - 20 mA loops)
2 Internal Alarm Points (Power Fail and System Alarm)
Plug-in screw terminal block accepts AWG 26 to 12 wire
Relay Outputs
Contact Rating: 2 A / 30 VDC
Plug-in screw terminal block accepts AWG 26 to 12 wire
2 programmable contact terminals
Program Ports
USB - Equivalent functions as DB9
Telset - RJ11 connects to DTMF capable phone for voice recording and programming
About the ProTalk Cv3
The ProTalk Cv3 is a device used to notify an end user of alarm conditions at an unattended local or remote site.
Alarm conditions are defined by the user and can include such things as pump failures, tank levels and pressure changes. Inputs can be defined as alarming or monitor only, allowing you to define which changes are most critical and require immediate notification.
When an alarm condition occurs, the ProTalk Cv3 will announce the alarm using the internal cellular module. The unit will continue to call out using the predefined directory until such time as the alarm is acknowledged.
The B1277 ProTalk Cv3 is very versatile and can be programmed to perform many more functions at the discretion of the user. It can:
announce alarms over telephone, text, radio, PA, email or any combination thereof.
be programmed to send coded tones along with the voice messages to activate such devices as radio pagers, relay and annunciator panels.
perform remote control functions using the 4 relay outputs automatically or by receiving user defined DTMF codes.
use up to 4 alarm groups and shifts to create custom directories based on common alarms or time of day.
email a daily activity summary report to notify you of all recorded activity
email and/or text notifications when alarms are announced, cleared and/or acknowledged (for informational purposes only).
email, text and/or phone regular status reports including alarm status and enabled point values
define security levels for incoming calls and text messages.
require an access code for phone or text access to programming.
interact with you in French (limitations apply, contact us for details).
be installed in hazardous locations requiring Class I, Div 2 rating.
function in extreme temperatures of -40°C to +60°C (-40°F to 140°F).
The ProTalk Cv3 is the industry standard in cellular alarm dialing and SMS notification and is designed to operate in urban, rural and remote sites across North America.
Power
+9 to +30 VDC, negative ground, 1.0 A Max
Nominal Current Consumption: 160 mA (no power saving options enabled, good RSSI)
Internally fused at 1.85 A
Environment
-40°C to +60°C, 0 to 95% humidity, non-condensing
Physical
Internal Battery (Optional)
1.4 A H 12 V
Up to 8 hr run time*
Rating
CSA/UL Safety Approvals including Class I, Div. 2 for hazardous areas
SIM Card
Mini-SIM, 25.00mm x 15.00mm x 0.76mm
Internal Battery Backup

Provides 1.4 A H 12V DC backup battery protection
Up to 8 hours run time
Model # INT BATT

AC Adapter

LP Dual Band Antenna

High gain antenna ideal for poor coverage areas
Consistent 9dBi gain across all frequencies
DC grounded for lightning protection
Model # ANT DB WIDEBAND

Phantom Dual Band Antenna

Ideally suited for NEMA enclosures or cabinets
3dB MEG
DC grounded for lightning protection
Model # ANT DB PHANTOM

Dual Band Omni-Directional Antenna

Ideal for outdoor applications with good cellular coverage
Applicable for both 3G and 4G solutions
Mast mounting hardware included
Model # ANT OMNI

35' Lightning Protector to Antenna N to N Cable

Model # CC TX LINE N TO N 35FT

6' Cv3 To Lightning Protector SMA to N Cable

Model # CC LMR195 SMA TO N 6FT

NEMA Enclosure

NEMA 4X rating
Emergency battery backup (optional B1252)
Programming telephone handset
Model # NEMA